Finally! The announcement of our case company in this fall edition of AAU Case Competition is set. As we already have announced on Facebook and here on our website, the case company is COWI A/S. For those of you who should have any doubt about who COWI is, I can tell you this. COWI is an international consultancy company, which was founded back in 1930 by the civil engineer, Christian Ostenfeld and his partner. COWI is counselling in a wide range of fields such as; engineer techs, environment, economy and operates in many other platforms. These fields are indicators of one of the reasons why COWI is the perfect partner for the AAU Case Competition attenders. COWI controls more than 10.000 projects worldwide in about 175 exciting countries. Besides the huge amount of clients and projects, COWI has about 6,400 employees. The main office of COWI owns its residence in the Danish city, Lyngby. The COWI department in Aalborg makes the case that the students attending in AAU Case Competition are going to work with. This department is very big as well. COWI's department in Aalborg, are like the other COWI departments, working with the idea of being a 360 degrees company. With that being said, it means that it fits perfectly with the idea of AAU Case Competition's wide range of relevancy for the student faculties.
In the search of insight as to why COWI fits so well for AAU Case Competition, I've arranged a meeting with Regional Director at COWI in Aalborg. The person I met, was a very passionate and pleasant man, named Morten Haugaard Jacobsen.
"I know that AAU is very found of PBL, and this is PBL in reality. This is as close as you can get to working with a company before you end your education and tries to get a job. This is the perfect opportunity for the students to work with a case, which actually could have been a real challenge to solve here at COWI. Here at COWI we have more than 20 different educations represented, which indicates that we strive to be as interdisciplinary as we can be. That is the same spirit we see with AAU Case Competition. Here at COWI we really enjoy meeting the students and let us get inspired by them. They have vision and a goal for the future, besides that, we have a close affiliation to the university. They have educated many of our employees through the last years, so we want to give a little bit back to the university and the students"

– Morten Haugaard Jacobsen, Regional Director at COWI A/S Aalborg
In comparison to AAU Case Competitions cornerstone, Problem Based Learning, COWI tries to build up a case on the same foundation. Not only for the sake of the engineers, but also for many of the other faculties represented as well. Actually the more different eyes on the case the better. So as you can hear, the choice of making COWI this fall's Case Company, is carefully chosen. The company's DNA and set of skills is the optimal match, not only for AAU Case Competition, but for COWI as well. We are sure, that both parts, together with the students, will end up with a massive practical experience.
" You have to use all you have learned to solve this exciting and complex case. All of your theoretical knowledge and creativity have to be used. In that way you are forced to work interdisciplinary with your team members, in the same way that we, at COWI and in many other companies, works"

– Morten Haugaard Jacobsen, Regional Director at COWI A/S Aalborg
The theme, "The City of Tomorrow", of the case is the one that the students are going to solve on the 23th to 24th of November. The final definition of the case is still a close held secret and to be announced at the competition. But what we do know is, that COWI are making a case, which will make sure, that the students have to bring their "A-Game". If the students do that, they are assured a strong opportunity of practising their theoretical knowledge in praxis.
"AAU Case Competition will be a good practical experience for your CV. And maybe those who attend can have a role to play at COWI in the future. Besides the students can show their future employer that they have been chosen in a field of strong competition, which will be looked upon as a stamp of quality "

– Morten Haugaard Jacobsen, Regional Director at COWI A/S Aalborg
As earlier mentioned in our information about AAU Case Competition, this is the perfect boost for your CV as a student. When the students are going to make a job-interview in the future they will be well off with showing on their paper, that they have been attending in AAU Case Competition, and perhaps even won it. Besides from the prestige and the improvement of your CV, you'll end up with a strong foundation for your future time of studying. You will achieve some theoretical and practical experience, which isn't possible in the same way by studying. In other words, this is how it feels like to take a sniff of the reality.
"Maybe we will end up finding the new Messi or Ronaldo. A team doesn't have to have the winner-idea, they might as well have an idea that is fun and different, which will make us hunger after a further dialogue with the group members. It is in my opinion, that AAU Case Competition will be enjoyable as hell for us and for the attenders. We at COWI are really looking forward to November"

– Morten Haugaard Jacobsen, Regional Director at COWI A/S Aalborg
With these words Morten describes, what we in the team of AAU Case Competition are looking forward to and what the key point of this Case Competition is. The most important isn't if you are an engineer or communication student, it is not whether you have straight A's or not or if your father is a high roller businessman or a fabric worker. The most important thing is, that you dare to bring your creativity and think out of the box. If you manage that with your group members, and practice your individual theoretical knowledge, then you will end up having as much fun as COWI and we, at AAU Case Competition, are looking forward to have.
Morten Haugaard Jakobsen
35 y/o

Graduated in Political Science at Aarhus University in 2006

Regional Director since 1. June 2016

Previous employment at Danish Industry in Copenhagen and Aalborg, Leader of the Science Admistration at Aalborg Universityhospital.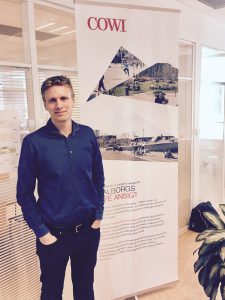 Morten Haugaard Jacobsen
can't wait for AAU Case Competiton.