T
oday we have reached Friday, April the 7
th
, the final day for applying to become a part of AAU Case Competition. The last couple of months have been exciting for us at the AAU Case Competition team, because we have been putting a lot of effort into the task of communicating the message of this amazing event out to all of you students. I'll bet you, that we could make a movie about this journey of making, what at the 3
th
– 4
th
of may will be the actual AAU Case Competition. Make no mistake, we love what we do, and we will keep on doing it as long as you lovely students want to participate and enjoy this opportunity of a great event.
When we at midnight on this day shut down the possibility of applying, the next step will be the selection of all you applying students. Luckily for us, so many of you have applied, that it would almost be impossible to find the most adequate candidates. The people who are going to choose the candidates will be this years case company, perhaps with a little bit of help from AAU Case Competition's head coordinators Nikolaj and Kenneth. So as you may think – your application is in great hands.
For those of you, who will be participating in the case competition I would now like to tell you about how it's going to work in the 2 days that we are going to be together. Of course there might be some changes on the way, but this is the canvas upon which we are going to paint a masterpiece. When you turn up on Create in the centre of Aalborg with the most amazing inlet view, you will be taken care of, as if you were on a weekend visit at home with your families. The only difference is, that you probably doesn't make that much of case solving on those visits. You will either have gotten some information before you turn up, about what case-group you will be working in, otherwise you will get the necessary information on the day. After a brief introduction and instruction, you and your group members will start to work with the introduced case in the upcoming hours that day. After some innovative hours with your group members you will have to present your solution or whatever you might have made to present for the Port of Aalborg. Now it gets exciting. It is now you have to perform – but don't be nervous, the receivers will be very kind!
After all of the presentations the Port of Aalborg will deliberate. Hopefully you will make it really hard for them to find the groups who go to the final at corporate lounge the next day. When the finalist groups has been selected it will unfortunately be time for saying goodbye to those of you who made a solution, that might not have been what the port exactly was looking for. Non-the less, those groups who wasn't selected for the final day, will have gained an amazing and learn full experience, and a stamp of quality to add to their CV.
Those of you who has been selected for the final day will afterwords get the opportunity of working furthermore on your case solving the next following hours. On this final day, at the corporate lounge held at Musikkens Hus, Aalborg Mayor Thromas Kastrup Larsen and CEO at the Port of Aalborg, Claus Holstein, will show up and make brief presentations. Afterwards there will be networking with AAU Matchmaking and the invited companies, which is an exciting opportunity to meet interesting people and companies along with your fellow students. After a short break; "The Port of the Future" will be presented for all of the companies attending. You have something to look forward to. A lot of exciting companies have already declared their arrival. Afterwards there will be a presentation of AAU Case Competition, followed by the case challenge, presented by the Port of Aalborg. When all of this is over, it will be your turn as finalist to perform again. You have to give all what you have got to impress all of the attending companies. Furthermore you'll have the amazing opportunity to talk with so many different companies on this day.
When you guys have enriched us with your presentations, it will be time to find the winner of this fall's edition of AAU Case Competition. The winner of the prizes with an amount of non the less than 30.000,- (DKK), along with the eternal glory of calling you and your case group members, winners of AAU Case Competition.
Hopefully all of you guys that will end up participating will find these days enjoyable and extremely gainful. You will walk out of Create and feel a little bit more experienced and a little bit more enlightened in what you as a student are capable of. And who knows, if you have done a good job, you might walk away with and internship as well 😉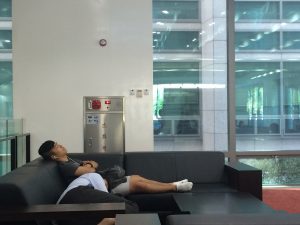 Remember to bring your "A-Game" these days. Just take a look at these sleeping Korean students. They have already started preparing by being rested for this epic event. They take their preparing so seriously, that they even sleep in school 😀 ^^